Our Cloud Cookie Cutters page offers a unique collection of cookie cutters that will add some dreamy and whimsical fun to your baking! With a variety of cloud designs available, including fluffy cumulus clouds, stormy thunderclouds, and more abstract cloud shapes, you can create perfectly shaped cookies that will delight anyone who loves all things related to the sky and nature.
Our cookie cutters are made from high-quality materials, ensuring that they are durable and easy to use. They are perfect for creating unique treats for cloud-themed parties, weather events, or any special occasion that celebrates the beauty and wonder of the sky.
Not only are our cookie cutters great for baking, but they also make fantastic gifts for anyone who loves the natural world. Whether you're a fan of clouds, rainbows, or simply enjoy the beauty of the sky, our Cloud Cookie Cutters offer a fun and creative way to add some nature-inspired magic to your baking.
Browse our collection today and start baking your way to a dreamy and memorable cloud-inspired experience!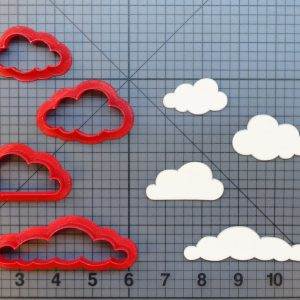 Cloud 266-A030 Cookie Cutters
Our Cloud 266-A030 Cookie Cutters is primarily made to cut fondant to decorate treats such as cookies, cupcakes, cakes, rice krispie treats, sandwich cookies, cake pops, chocolate dipped strawberries, candy apples, and chocolate covered marshmallows. Certain cookie cutters can also … Read More
Rated 5.00 out of 5
$

7.50
Select options