The perfect design for the makeup lover. Our makeup cookie cutters are available in so many different awesome designs, they are perfect for the makeup lover in your life. Do you know a makeup artist or someone who is passionate about always looking their best?
Makeup cookie cutters can be great for slumber parties or other events, for birthday parties and birthday cakes, and for a lot of other uses. These designs include things like some awesome makeup brand logos, and a variety of different makeup cookie symbols including lipsticks, brushes, and more.
Lots of our makeup cookie cutters are simple designs, great for beginner bakers and to create both cookies and icing in these awesome, creative shapes, but there are also a lot of other uses for the cutters. Some even use them for soap-making and scrapbooking, and in the kitchen, they can be used for ice, pastry, and more. With our makeup-shaped cookie cutters, it is up to you exactly how you use them.
Ready for your next makeup slumber party? Perhaps you want to make some cookies for your beautician or makeup business? Check out our quality silicone cookie cutters with a makeup theme.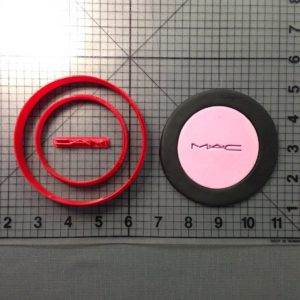 High Fashion MC 266-B919 Cookie Cutter Set
Our High Fashion MC 266-B919 Cookie Cutter Set is primarily made to cut fondant to decorate treats such as cookies, cupcakes, cakes, rice krispie treats, sandwich cookies, cake pops, chocolate dipped strawberries, candy apples, and chocolate covered marshmallows. Certain cookie … Read More
not rated
$

5.50 –

$

60.77
All Sizes 2 inch - 11 inch
Select options