Get creative in the kitchen with JB Cookie Cutters! Our amazing selection of shape cookie cutters is the best way to express yourself through your baked confectionaries.
Non-stick and easy to apply and remove due to their silicone design, our cookie cutter shapes are the perfect way to add your own unique flair to your baking. With a massive variety of shapes to choose from including animals, geometric shapes, pop-culture shapes such as Disney and Marvel cookie cutters, and more, you will leave your family and friends speechless with your tasty treats!
Use our cookie cutters for far more than baking too, as you can easily apply our molds to candy or even sculpt ice popsicles in whatever shape or size you desire.
Cost-effective, easy to clean, store and use, and deliverable to your home, JB Cookie Cutters are available in various shapes and sizes to choose from. With everything from puzzle pieces to peace signs, we have a huge variety of shape cookie cutters to purchase, so get browsing, buying, and baking right now and take your culinary game to the next level!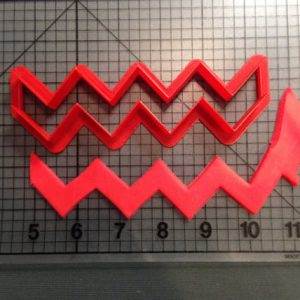 Chevron Pattern Cookie Cutter
Our Chevron Pattern Cookie Cutter is primarily made to cut fondant to decorate treats such as cookies, cupcakes, cakes, rice krispie treats, sandwich cookies, cake pops, chocolate dipped strawberries, candy apples, and chocolate covered marshmallows. Certain cookie cutters can also … Read More
Rated 4.00 out of 5
$

4.00
Select options