JB Cookie Cutters has a fantastic collection of architectural cookie cutters that are perfect for anyone who loves to travel or appreciate the beauty of different architectural styles. These high-quality material cookie cutters are perfect for creating cookies or fondant decorations that will impress your friends and family.
Choose from a wide range of iconic landmarks such as the Eiffel Tower, the Taj Mahal, the Leaning Tower of Pisa, and many more. Each cookie cutter is carefully crafted with intricate details that capture the essence of the buildings, making it easy to recognize your favorite landmarks.
These architecture-themed cookie cutters are not just for baking; they can also be used as stencils for other crafts. Whether you're a professional baker or just starting out, these cookie cutters are a fun and creative way to add a unique touch to your baked goods.
With their durability and easy-to-clean design, these cookie cutters are sure to become a staple in your kitchen. So why not bring the beauty of architecture into your home and create delicious treats that pay homage to some of the world's most famous landmarks?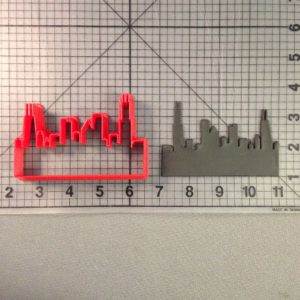 Chicago Skyline Cookie Cutter Silhouette
Our Chicago Skyline Cookie Cutter Silhouette is primarily made to cut fondant to decorate treats such as cookies, cupcakes, cakes, rice krispie treats, sandwich cookies, cake pops, chocolate dipped strawberries, candy apples, and chocolate covered marshmallows. Certain cookie cutters can … Read More
not rated
$

3.00 –

$

7.00
Select options