Cowboys & crooks, cops & robbers, alien hunters, laser beams, ray-guns, and Nerf guns! When it comes to gun-shaped cookie cutters, the sky's the limit. Gun cookie cutters are the ultimate party accessory to turn that birthday, special occasion, or a fun day of playing into the ultimate themed event.
And as always, with JB cookie cutter ranges, you're getting much more than just gun cookie cutter sets. Cookie cutter Ninja stars, spears, pirate swords, knives, targets, shields, and a massive assortment of weapons are included in the range.
Pop culture movie and video game classic gun cookie cutters are also available to ensure the perfect finishing touch to your themed kids' birthday event. Super Mario's Bob-Omb, Star Wars light-sabers, Adventure Time Swords, Friday the 13th Jason Machete, and many more.
JB cookie cutters' high-quality silicone molds can be used for any foodstuff, and they're not limited to cookies only. You can use them in the oven, freeze them, and they're great for cakes, cookies, savory treats like sandwiches and pancakes, and making candy.
If you're looking for the broadest range of high-quality gun cookie cutters, look no further than JB cookie cutters. We've got no matter what your gun and weapon-themed party needs. So shop the extensive range today and choose your favorite!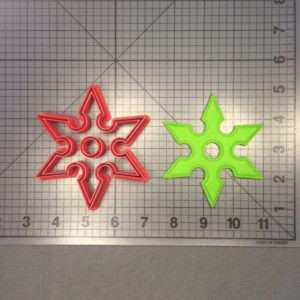 Ninja Star 102 Cookie Cutter
Our Ninja Star 102 Cookie Cutter is primarily made to cut fondant to decorate treats such as cookies, cupcakes, cakes, rice krispie treats, sandwich cookies, cake pops, chocolate dipped strawberries, candy apples, and chocolate covered marshmallows. Certain cookie cutters can … Read More
not rated
$

4.50 –

$

7.50
Select options